Tumalo Falls via Tumalo Creek Trail PNW Hike
Oct 16, 2023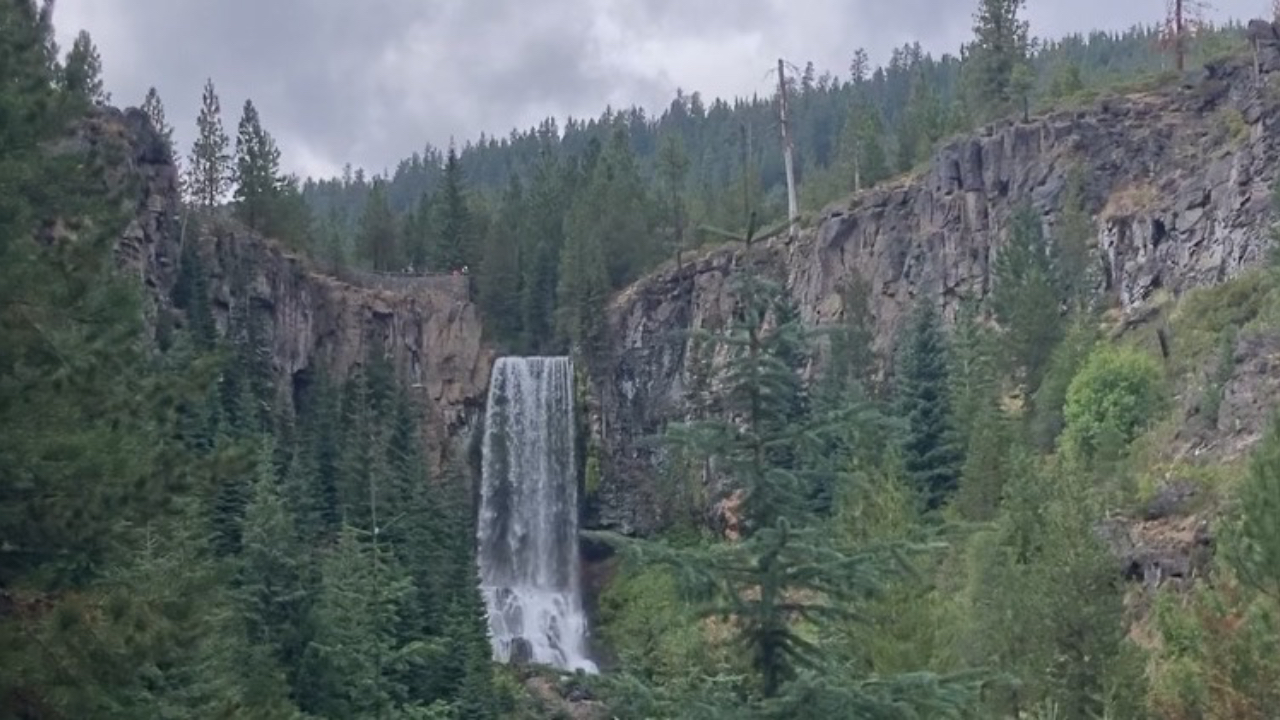 Just 30-minutes from downtown Bend is the stunning Tumalo Falls! This 97-foot waterfall a gem not just because of it's beauty, but because it's you can drive directly to it or you can hike to it from the trailhead (this is the one we will be telling you about.)
This is a must-see if you're on a weekend trip or even just passing through Bend.
One of our favorite this is that it is a dog-friendly hike! It doesn't just allow dogs, but its well-shaded, not too crowded, and lots of places for them to dip in the water!
What You Need to Know
Parking Fee: There is a $5 parking fee if you park at the falls, but this is covered if you have a National Park Pass and possibly even a state park pass too. Phillip and I bought both at REI and don't regret it one bit. We never pay for parking anymore! If you want to do the Tumalo Creek Trail (which we highly recommend!) you can park along the road which is free or at one of the trail heads. I believe none of them require parking passes. The only reason you'd need to park on the road is if the parking at the trail heads is full. Sometimes this can happen on weekends or when events are happening.
Restroom: There are 2 restrooms when you arrive to the falls, but that's it!
Crowd: It should not be very crowded but you definitely will see other people.
Dogs: Dogs are welcome but must be on a leash (technically 6 ft. or less).
Camping: Camping is not allowed in this area but there is plenty nearby! Phil's Trailhead is just before the Tumalo Creek Trail and has plenty of camping.
Cell Signal: There is little-no service out here.
Access: If you are going directly to the falls you will need 4WD if it has snowed recently.
How to Get There
From Bend, head west on Skyliners Road until it forks into Bear Swallow Rd (right) and Tumalo Falls Rd (left). Stay left onto Tumalo Falls Road for about 8 miles. I recommend using the AllTrails app to direct you!
Best Time of Year
Late spring into early fall is probably the best time for hiking the Tumalo Creek Trail! Other than that the train can be difficult to access without 4WD and may not be as enjoyable if you don't like the snow. If you are a snow-lover it is perfect for snowshoeing!
How Long is the Hike
The hike is an easy-moderate 7 miles. You'll hike right along the river most of way there and the last half mile will me moderate-hard with Tumalo falls in view! Be sure to bring your camera because it's gorgeous! You won't need much time at the falls themselves if you don't want. Stop and stare as long as you want, but 30-mins at the fall should be just enough if you don't want to rush but also don't want to stay all day. The hike in and out will be about 3-4 hours (that includes starting at waterfall time).
If you go in one of the warmer months and having a furry friend with you, like our Lemon, there are lots of places for them to hop in the river to refresh themselves!
What You'll Need
Food: If you don't want to bring a meal, we like packing dried fruit, cheese sticks, jerky, and cookies! Our beverages are either just water or water mixed with coconut water and sea salt for minerals (potassium and sodium).
Shoes: We got our hiking shoes at REI 4 years ago and still love them! I wear Merrells as the are nearly a zero-drop and have a wider toe box (not wide, but on the wider side).
Raincoat: We got rained on on our way in! It wasn't horrible but we did have to hide under a tree and decided to use that as our snack/refuel time.
Sunglasses: It can get bright in the summer and even more so in winter if it has snowed. Most of the path is shaded but part of it are not.
Bug Repellant: If you go in the warmer months there will be sections of the hike where you will encounter bugs. Even a lavender and eucalyptus spray would be helpful! We use THIS spray as flea and tick repellent for Lemon. There is also a shampoo we use to wash her that removes pests if any did happen to get on her.
Dog Leash: Dog's must be on leash!
Poop Bags: This trail is immaculate, so let's keep it that way!
Stay Connected!
Join Estelle's email list to receive weekly tips, inspiration, and latest podcast episodes!
P.S. I even have a gift for you to help you become more consistent with exercise!
No SPAM allowed! Your information will never be sold or shared for any reason.